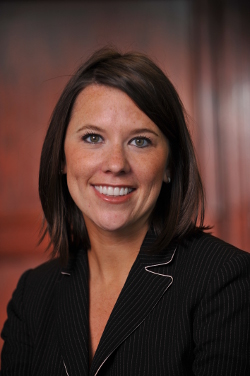 The legal system is often intimidating and downright frightening. Clients faced with this daunting reality find comfort in Ms. J'Nan Kimak's expertise, sincerity, and dedication. In providing this support, Ms. Kimak fulfills her calling to give voice to those in need.
Ms. Kimak attended Miami University and obtained her Bachelor's Degree in English with an Emphasis in Technical and Scientific Communication in 2001. She graduated from the University of Missouri-Kansas City Law School in 2004.
While still in law school, Ms. Kimak was given the tremendous opportunity to clerk at Humphrey, Farrington & McClain, P.C. Almost immediately, she gained trial experience in Jasper, Missouri, in a landmark trial that resulted in a $20 million dollar verdict. The plaintiff, a worker at a microwave popcorn factory, exposed to diacetyl (a chemical used to make butter flavoring) suffered debilitating lung disease. From that experience forward she quickly gained invaluable experience in all aspects of litigation from inception to trial. This early opportunity and experience solidified Ms. Kimak's steadfast desire to represent individuals injured by careless, reckless or intentional acts of others. At Humphrey, Farrington & McClain, P.C., Ms. Kimak has continued to assist microwave workers and consumers nationwide for the past two decades.
Ms. Kimak has gained extensive litigation and negotiation experience, assisting in numerous trials across the United States, obtaining favorable settlements and jury verdicts in a varied spectrum of cases. As a result of her strong organizational skills and attention to detail, Ms. Kimak routinely manages large case dockets and settlement resolutions. Ms. Kimak is proficient in mass tort litigation and resolution and has overseen the successful distribution of more than $100 million in mass tort settlements. Ms. Kimak works tirelessly to ensure her clients' maximum recoveries with expeditious distribution. Ms. Kimak combines her positive outlook with strong communication skills and litigation experience to create and maintain strong relationships with clients based on trust and respect.
Ms. Kimak is licensed to practice in Missouri and Kansas and is admitted to practice in the United States District Courts in Missouri and Kansas.
Ms. Kimak has been routinely recognized as a "Rising Star" by Super Lawyers. She is a member of Kansas City Metropolitan Bar Association, The Missouri Bar, Missouri Association of Trial Attorneys, Kansas Bar and American Association of Justice.
Whether professionally or personally, helping those in need is essential to Ms. Kimak. For the past decade, she has served as a Board member, including Board Chair, for the Rainbow Center for Communicative Disorders, which provides a range of service