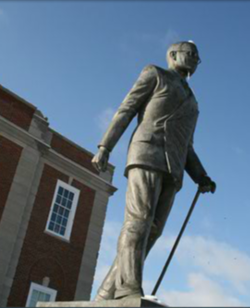 Ranked Nationally for Top Verdicts and Jury Verdicts
The attorneys at Humphrey, Farrington & McClain, P.C., in Independence, Missouri, have represented thousands of clients seeking financial restitution for damages caused by the negligence of others. We know that many people are offended by so-called frivolous lawsuits. So are we. Committing significant financial resources and staffing your case with our team of professionals is a thoughtful endeavor. If we accept your case, you will have every chance of getting the full and fair financial compensation you deserve.
If you have been seriously injured, it makes sense to talk to a successful, experienced personal injury lawyer. Our legal team and professional staff work hard to protect your financial interests and legal rights. We are proud to have secured more than $1 billion in settlements and jury verdicts on behalf of our clients since 1984. Injury victims and their families know: Not a single dollar of it was frivolous.
Experience, Success and Financial Resources to Stick With Your Case
Do not let the opposition outspend you until you give up and give in. Our experienced trial lawyers have the skill, experience and financial resources to represent people in the most complex types of personal injury, wrongful death and consumer litigation cases throughout the United States.
Serious personal injury and wrongful death cases may take more than a year to settle or go to trial. Will your Kansas City personal injury law firm have the kind of financial and professional resources to cover case expenses until the end? We do. We have many of the nation's largest verdicts and settlements to prove it.
Solution Focused Legal Thinking
When you are hiring a lawyer to represent you, it is important to find someone who will meet with you in person and not just by telephone. At the law offices of Humphrey, Farrington & McClain, we focus on giving our clients the individual attention they deserve.
Our offices are conveniently located in the heart of historic downtown Independence, Missouri, and we offer free parking. If you are unable to come to us, we will often make arrangements to meet with you and your family at a time and location most convenient for you. From our main offices, we represent clients in personal injury and wrongful death cases throughout Missouri, Kansas and the United States. We also have successful experience representing individuals and plaintiff classes in national cases involving environmental contamination and toxic torts.
You can be assured that the attorneys at Humphrey, Farrington & McClain will devote the necessary time and resources to effectively resolve your case.
LEADING MINDS. LATEST PUBLICATIONS.
HAVE QUESTIONS ABOUT A LEGAL ISSUE? ASK OUR ATTORNEYS.
Our Attorneys Have Been Featured On: