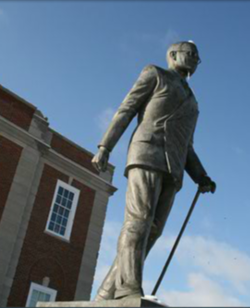 Missouri Estate Plans Lawyers
If everyone had the same lives and the same property, then it would make sense to offer everyone the same estate plan. In reality, everyone's needs are different when it comes to estate planning. The Kansas City wills and trusts attorneys of Humphrey, Farrington & McClain understand that. We are not a law firm that offers cookie-cutter solutions. We carefully examine your needs, as well as those of your family and your business. We truly provide customized estate plans.
Contact our Kansas City wills & trusts lawyers at 816.398.7435 to schedule an initial consultation.
Areas of Estate Planning
Our Kansas City, MO attorneys are able to create a strategy designed specifically for your situation by using the best available estate planning tool, including:
Wills
Trusts (irrevocable trusts, revocable trusts, life insurance trusts)
Living Wills
Durable Powers of Attorney
Advance Directives
Helping People Since 1978
Our estate planning lawyers have been helping people in Independence, Kansas City, and the surrounding areas since 1978. Our depth of experience allows us insight into often overlooked areas when it comes to planning your estate. For example, we have the knowledge to appropriately incorporate your IRA and 401k into your plan. The handling of retirement fund distributions can have significant estate and income tax repercussions. We can build your plan to minimize these repercussions. It is just one of the many steps we are prepared to take to ensure the best results for you and your family.
From the creation of wills and trusts to devising tax strategies, our Missouri wills and trusts lawyers can help. We pride ourselves on our professionalism and dedication to the needs of our clients. Contact us to find out how we can dedicate ourselves to creating an estate plan that is right for you.
We are not a personal injury lawsuit mill. We try catastrophic injury cases to win. The personal injury trial attorneys at our firm have successfully taken on many of the largest corporate interests in America. Our lawyers have won the only popcorn lung disease trial in U.S. history. We are also the first firm to obtain a settlement in a personal injury case against a tobacco company in U.S. history.
LEADING MINDS. LATEST PUBLICATIONS.
HAVE QUESTIONS ABOUT A LEGAL ISSUE? ASK OUR ATTORNEYS.