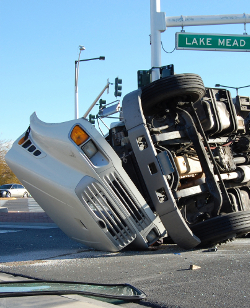 Winning a Truck Accident Case Means Knowing the Law
Humphrey, Farrington & McClain, P.C., has earned national recognition for our successful approach to recovering significant compensation on behalf of clients injured in truck, car and other traffic accidents throughout the country. Since we opened our firm in 1984, our trial lawyers have recovered more than $1 billion in damages on behalf of clients who have suffered injury and financial loss because of other people's negligence.
Make No Mistake: We Will Go to Trial if Necessary
In our view, there are too many litigators who claim to be trial lawyers. Too many law firms will accept your case and then encourage you to accept an early settlement that does not meet your needs. You will not find that approach at Humphrey, Farrington & McClain. When you hire us, you get an experienced team of professionals with the financial resources to match our skills. We cover all investigation and case expenses during the length of your case — for years, if necessary.
Our attorneys have represented individuals in all types of motor vehicle accidents, including:
Truck accidents: Accidents involving tractor-trailers and other commercial vehicles frequently have multiple layers of liability. We use our experience to look beneath the surface of the truck accident to uncover every party that shares responsibility for your losses.
Motor vehicle accidents: We fight aggressively to protect your rights after you've suffered injury and loss because of an automobile or other type of motor vehicle accident. When we take a case, we do not stop fighting until we have obtained a maximum settlement or jury verdict in court, if necessary.
Public transportation accidents: We are recognized leaders throughout the region for helping people recover money after suffering an injury on a bus or train, in a taxi or other public transportation.
Referrals Have Always Been a Major Part of Our Law Firm
At Humphrey, Farrington & McClain, our law firm is proud of the reputation we have earned among members of the bar. Our reputation is reflected in the large number of cases that are referred to us from other attorneys. If you have a client or a case that you believe is a good fit for our firm, do not hesitate to contact us.
Do not let an inexperienced law firm promise what it may not be able to deliver. We have the verdicts and settlements, client satisfaction and professional recognition to back up our experience.
To speak with a traffic accident attorney at Humphrey Farrington, contact us online or call 888-353-0491.
We are not a personal injury lawsuit mill. We try catastrophic injury cases to win. The personal injury trial attorneys at our firm have successfully taken on many of the largest corporate interests in America. Our lawyers have won the only popcorn lung disease trial in U.S. history. We are also the first firm to obtain a settlement in a personal injury case against a tobacco company in U.S. history.
LEADING MINDS. LATEST PUBLICATIONS.
HAVE QUESTIONS ABOUT A LEGAL ISSUE? ASK OUR ATTORNEYS.