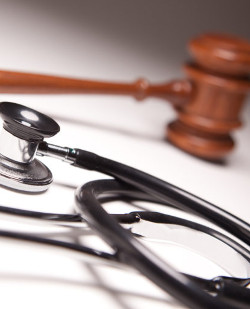 Missouri Medical Negligence Lawyer
We handle all types of medical malpractice cases, including cases involving:
Birth injuries
Surgical errors
Misdiagnosis
Hospital administrative and staff errors
Defective medical devices
Improper diagnosis of breast cancer
Shoulder dystocia
Infant brain injury and cerebral palsy
Wrong-site surgeries
We have earned well over $1 billion in settlements and verdicts for our clients. Because medical malpractice lawsuits can take a year or longer to resolve, it is important to know that we have the resources to stick with your case and finance costs until you win financial damages.
There Is No Place for Negligence in the Medical Profession
Every year, millions of Americans place their trust in the training, expertise and equipment of our medical professionals, clinics and hospitals. Doctors, nurses, dentists and other medical practitioners are required by law to maintain and uphold high standards of care.
Our Kansas City medical malpractice lawyers have earned national recognition for holding medical providers accountable for negligence.
Fighting for Justice and Malpractice Victims' Rights Since 1984
In recent years, insurance company lobbyists have mounted an unprecedented attack on the American judicial system through so-called "tort reform." Tort reform has had its biggest impact on medical malpractice cases. Today, many states have passed legislation that limits the amount of money a person can obtain in a medical malpractice lawsuit. Tort reform laws also drive up litigation expenses by placing strict expert witness requirements and restrictive timelines on plaintiffs attorneys.
While many other personal injury litigation firms avoid medical malpractice suits because of their complexity and the costs of pursuing them, our Kansas City medical malpractice lawyers continue to take on important cases and powerful opponents, including the largest insurance companies and hospitals — and we continue to win results for our clients.
For a free initial consultation, contact a Kansas City medical malpractice attorney at Humphrey, Farrington & McClain who can evaluate your case thoroughly and provide sound guidance and legal representation. Call us at 888-353-0491 or contact our firm online.
From offices in Independence, Missouri, our medical negligence lawyers represent clients pursuing medical malpractice lawsuits in courts throughout Missouri, Kansas and the United States.
LEADING MINDS. LATEST PUBLICATIONS.
HAVE QUESTIONS ABOUT A LEGAL ISSUE? ASK OUR ATTORNEYS.