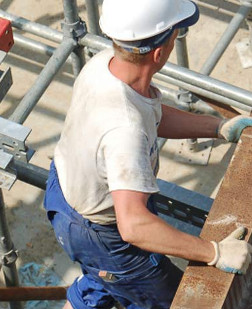 A Catastrophic Injury Will Change Your Life Forever. Call Us.
We represent injured construction workers and their families in all types of construction site accidents, including:
Falls, ladder and scaffolding accidents
Wall and roof collapses
Dropped and falling objects
Defective equipment
Subcontractor negligence
Forklift accidents
Crane and conveyor equipment injuries
Construction vehicle accidents
We Will Never Be Bullied by Big Insurance Companies
Humphrey, Farrington & McClain is a personal injury law firm that has obtained more than $1 billion in settlements and verdicts on behalf of victims of negligence since 1984. We are recognized as the trial lawyers to come to when you know you deserve full and fair compensation for your construction site or workplace injury.
Construction workers face hazardous working conditions from the moment they step onto their job site. Builders and construction engineers also put their safety in the hands of manufacturers, property owners and subcontractors on site. If you have been injured in a construction accident, you are one of more than a million workers to suffer injury and lost earnings in a typical year.
Most construction workers are covered under workers' compensation insurance. If you get injured, you can file a workers' compensation claim. In most cases, however, you will be unable to file a further claim against your employer.
Contact Our Kansas City Construction Accident Law Firm
In some circumstances, you may also be entitled to seek compensation from third parties that may be liable for your injuries. These parties can include the subcontractor who set up the scaffolding that fell over, the manufacturer of the weld tank that exploded, or the property owner who failed to inform the work crews of potential soil instability. There are numerous potential third parties that may have liability for your workplace injury.
From our offices in Independence, Missouri, our lawyers represent injured construction workers in courts throughout Missouri, Kansas and the United States. Contact us online or call 888-353-0491 to arrange a free consultation.
If you already have a workers' compensation firm working on your case, we will be happy to work with your current attorneys.
LEADING MINDS. LATEST PUBLICATIONS.
HAVE QUESTIONS ABOUT A LEGAL ISSUE? ASK OUR ATTORNEYS.