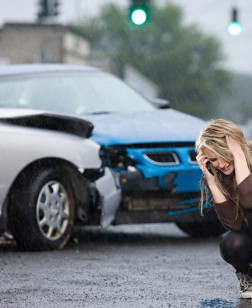 Why Hire Humphrey, Farrington & McClain?
Our record of verdicts and settlements speaks for itself — more than $1 billion in compensation recovered for our clients since 1984. Our mission is to hold other people or companies responsible when they cause injury to someone else because they were careless or otherwise negligent. No matter how the car accident happened — from speeding to falling asleep behind the wheel — we fight for all our clients to help them get the compensation they need to recover from serious injury.
At Humphrey, Farrington & McClain, P.C., we represent clients who have been seriously injured in car crashes. If you become our client, we will devote all the time and resources we can in an effort to achieve a good result. After a car crash, you face lost wages, medical bills and physical pain. Our goal is to help make things better. Contact us online or call 816-398-7435 (toll free at 888-353-0491) for a free initial consultation.
Types of Car Crash Accidents
Many car crash injuries result from one thing: poor driving. At its most basic, poor driving can be as innocent as not seeing a stop sign or stop light. On the other hand, it can be as criminally negligent as drunk driving.
We handle all types of car crash accidents, including:
Texting while driving accidents
Drunk driving accidents
Drugged driving accidents
Fatigued driving accidents
Reckless driving accidents
In addition, we handle car crash cases involving motorists who were driving without insurance (or were underinsured).
MO Insurance Claim Compensation Law Firm
We offer free initial consultations for every potential client. If you've been injured in a car accident, we want to help you get the compensation you deserve — and we prepare every case for trial to do just that. To speak with an attorney at Humphrey, Farrington & McClain, P.C., call 816-398-7435 (toll free at 888-353-0491) or contact us online.
We are not a personal injury lawsuit mill. We try catastrophic injury cases to win. The personal injury trial attorneys at our firm have successfully taken on many of the largest corporate interests in America. Our lawyers have won the only popcorn lung disease trial in U.S. history. We are also the first firm to obtain a settlement in a personal injury case against a tobacco company in U.S. history.
LEADING MINDS. LATEST PUBLICATIONS.
HAVE QUESTIONS ABOUT A LEGAL ISSUE? ASK OUR ATTORNEYS.